Tahoe Keys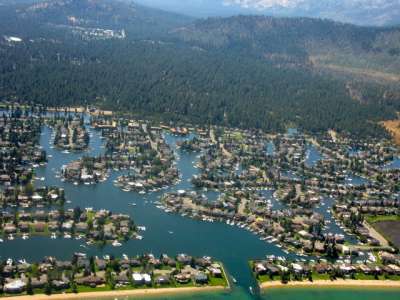 Tahoe Keys is a premier marina-based community boasting over 1,539 homes, condos, and private lots. Additionally, all homes are within a breathtaking 740-acre area. With such splendor, the site has quickly become a favorite among property owners who want to own their piece of paradise. If you're looking for Tahoe Keys homes for sale, we can help!
Know The Location
With its prime location at the southern tip of Lake Tahoe and within South Lake Tahoe city limits, the Tahoe Keys offer a unique blend of serenity and convenience. Canals, lagoons, and marina that weave through this idyllic neighborhood truly set the Tahoe Keys apart. Are you interested in Tahoe Keys homes for sale? We can help!
Experience The Amenities
Many homeowners here have a private boat dock, allowing them to access the sparkling waters of Lake Tahoe. Tahoe Keys offers the perfect blend of relaxation and recreation. Whether you're an avid boater or fisherman or just enjoy stunning views from the comfort of your deck.
The Tahoe Keys Marina is also located within the community and is a hub of water-related activities, including boating, fishing, and swimming. The community is where nature and luxury coexist. Whether it's a friendly game of tennis on the community courts or a sunset cocktail party at the clubhouse, there's always something to do and someone to do it within this idyllic paradise.
Tahoe Keys Home For Sale
At the time of the writing, the median listing price of homes for sale in Tahoe Keys was $1.75 million.
Now make your dream lakefront home a reality. So come, join everyone on the water, and experience the beauty and warmth of this one-of-a-kind community. If you're looking for a home in Tahoe Keys, please click here to contact us.
Tahoe Keys Properties for sale